Top 10 MP3 players under $100
Following are MP3 players which offer the basic requirements and do not cost more than $100.
All the devices listed below offer a minimum of 512 MB of storage and two or more of the following characteristics: good sound quality; a stylish, compact design; advanced features such as an FM radio or recording capabilities; and an impressive battery life.
1. Samsung YEPP YP-MT6X (512MB)
The good:
Superior AA battery life; solid sound quality; compact and durable; highly readable display for such a small player; FM radio; voice, radio, and line-in recording; next-track readout; MP3, DRM WMA, and OGG playback.
The bad:
Too many operational instructions to remember; FM radio and voice recordings placed in random play queue; line-in encoding requires uncommon 2.5mm plug.
The bottom line:
For a Windows user, the Samsung YEPP YP-MT6 is a superior choice to the Apple iPod Shuffle, thanks to its compact design, its good sound quality, and its many useful features and functions.
2. Samsung YP-U2 (512MB)
The good:
The affordable Samsung YP-U2 is a supercompact MP3 player with a convenient plug-in USB design; it includes an FM tuner, a voice recorder, subscription compatibility, a legible LCD, and an intuitive interface. Plus, it features an extensive set of equalizer and DSP sound settings. Sound quality is quite impressive, but there is a caveat.
The bad:
The placement of the headphone jack is not that impressive. It has an average battery life, the subpar voice-recording quality, and the audible clicks when starting or stopping a song. Additionally, the Samsung YP-U2 does not ship with a lanyard or an armband, and it currently maxes out at 512MB.
The bottom line:
Despite some minor issues, the simple but feature-friendly YP-U2 from Samsung will be a hot seller, thanks to a sweet price and great overall sound quality. It's a good choice for budget-minded users looking for their first MP3 player.
3. Sony NW-E105 Network Walkman (512MB)
The good:
Fantastic battery life; inexpensive; solid sound quality; gets really loud; innovative rocking faceplate controls.
The bad:
No FM tuner or recording options; inelegant software; must use SonicStage app to transfer songs.
The bottom line:
Budget-conscious music fans who want more than the Apple iPod Shuffle has to offer will be pleased with Sony's NW-E100 flash players.
4. Cowon iAudio G2 (1GB)
The good:
The Cowon iAudio G2 delivers great sound quality and sound-enhancement options, plays protected WMA files, and features line-in recording.
The bad:
The Cowon iAudio G2 is a bit large for a flash-based player, lacks an FM tuner, and most notably, uses the slow USB 1.1 protocol for transfers.
The bottom line:
The Cowon iAudio G2's terrific audio quality and ease of use overcome its lack of USB 2.0 connectivity.
5. Creative MuVo TX FM (512MB)
The good:
Cool design; USB 2.0; comes with armband and belt clip; great sound; easy to use.
The bad:
Tiny screen; no USB extension cable.
The bottom line:
Creative's MuVo TX FM is a great option for people who want a small, lightweight, and gymworthy player with a decent feature set.
6. Creative Zen Nano Plus (512MB)
The good:
Plenty of cool color options; ultracompact design; comes with a belt clip, a case, and an armband; impressive, but not great, sound and recording quality; supports DRM-protected songs; includes FM, voice, and line-in recording features.
The bad:
Small LCD; no true playlist support.
The bottom line:
This is feature-packed flash player and cheap device for the features it provides.
7. iRiver T30 (512MB)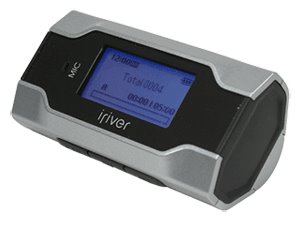 The good:
Supports subscription WMA files; small and light; solid audio quality; voice and line-in recording.
The bad:
No FM radio; occasional glitches in playing subscription downloads.
The bottom line:
The T30 is a basic player by iRiver standards, but Janus support makes it an attractive flash-based device.
8. MobiBlu DAH-1500i (512MB)
The good:
The cute and stylish MobiBlu DAH-1500i features a user-friendly, ultra-tiny design; a bright OLED screen; and useful extras such as FM tuning and recording, voice recording, and SRS Wow sound effects. This MP3 player also works as a removable flash drive and is DRM compatible.
The bad:
The MobiBlu DAH-1500i uses a nonstandard USB cable and has poor battery life.
The bottom line:
It is a good device for people fond of tiny things.
9. SanDisk Sansa m250 (2GB)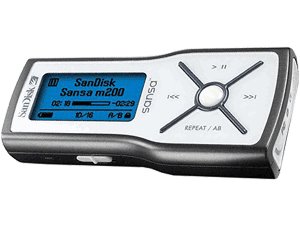 The good:
Available in up to 4GB capacity; solid value; includes FM tuner and voice recorder; compatible with WMA DRM 10 (Janus) and Audible files; decent controllers; on-the-go playlists.
The bad:
Bulky (but lightweight); no line-in recording; poorly backlit display; only one quality option for voice recording.
The bottom line:
With its many features as well as its compatibility with audiobooks and subscription-based music, the SanDisk Sansa m200 series is an overall great value.
10. MobiBlu B153 (512MB)
The good:
The MobiBlu B153 offers unbeatable battery life as well as nifty features such as an FM radio, line-in recording, and SRS Wow sound effects. Podcast Ready software comes loaded on the device, allowing for automatic updating of subscribed podcasts from any Internet-connected computer.
The bad:
The MobiBlu B153's design is bad, and navigation is strictly via folder trees, so there's no sorting by artist, album, genre, and so on. Also, the screen is small in relation to the device.
The bottom line:
MobiBlu's B153 isn't the most stylish MP3 player on the block, but if you're looking for an ultra-long-lasting device with plenty of features, it may be just the ticket.
Source - Reviews by CNET